Conférence
11.12.2022 – 14.12.2022
Brisbane, Australia
Pacific Polymer Conference 2022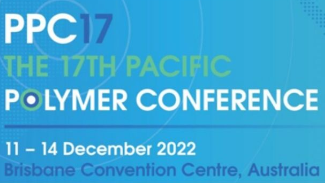 The Pacific Polymer Conference, held every two years in member countries, is the primary means of communication for its members. These are comprehensive conferences, spanning all areas of polymer research. Polymer science is inherently multidisciplinary, and so the themes of the conference cover all areas of major importance to the technological society.

Keynote papers will be delivered on the topics of Polymers for the Environment, Polymers for Health and Polymers for Energy, along the theme of Polymer Fundamentals and Properties. These themes will be supported by a total of 25 symposia.​​​​
Don't miss Andrew Gillen's talk:
"Optimising the performance and processing window of PHB co-polymers using rheology and thermal analysis"

on Tuesday, December 13 at 5-5.20 pm in B1 (Polymer Characterisation Stream)

Abstract
Visit our booth no. 1 and find out about our product portfolio for polymer applications:
We are pleased to present our DSC 300 Caliris®.
We will have FREE Rotational and Capillary Rheology Handbooks on our stand.
Andrew Gillen ​​​​(ANZ Product Manager) and Gisele Dickinson are looking forward to dive into the broad spectrum of polymer applications in the field of thermal analysis and rheology.