Take Advantage of our Application Books
NEW PHARMA APPLICATION BOOK:
"Thermal Analysis in the Pharmaceutical Field"
The book contains the following 8 chapters on more than 260 pages:

This book uses a variety of specific application examples to illustrate how the corresponding experiments are to be carried out and what conclusions can be drawn from the results.
An introduction preceding each topic describes the necessary methods and definitions addressed within and establishes the connection to pharmaceutical issues. Appendices to various chapters provide further information; for example, following the PolymorphismPolymorphism is the ability of a solid material to form different crystalline structures (synonyms:  forms, modifications).polymorphism chapter, there is a section dealing with the relationship between polymorphism and thermodynamics.
The handbook is available in English language.
We would like to give you the opportunity of a reading sample: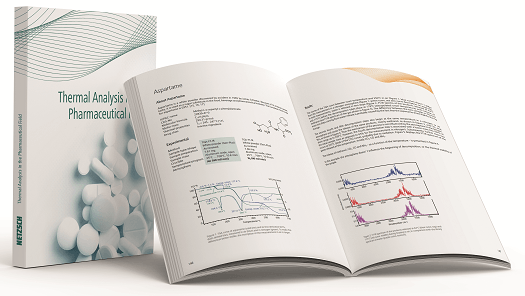 NEW VERSION AVAILABLE:
The Handbook "DSC on Polymers"
2nd corrected edition
Knowledge Compact – The Handbook "DSC on Polymers" – Essential for the Analysis of Plastics, Rubber or Resins
The handbook DSC on Polymers provides you quickly and competently with helpful tips to enable you to carry out measurements on thermoplastics, elastomers, thermoplastic elastomers or thermosets and interpret the results. For 64 polymers, we have compiled measuring plots, measurement parameters, interpretation of the results and general material properties. Also chemical structures (if available), processing possibilities and application ranges, all of which are presented in a clearly structured and practice-oriented overview.

The introductory chapters offer an easy-to-understand introduction to DSC (including special measuring techniques such as temperature-modulated DSC, Oxidative-Induction Time (OIT) and Oxidative-Onset Temperature (OOT)Oxidative Induction Time (isothermal OIT) is a relative measure of the resistance of a (stabilized) material to oxidative decomposition. Oxidative-Induction Temperature (dynamic OIT) or Oxidative-Onset Temperature (OOT) is a relative measure of the resistance of a (stabilized) material to oxidative decomposition.OIT, specific heat), lists national and international standards important for DSC measurements and describe their recommendations for the evaluation of polymer measurements. The DSC handbook is available in German and English. Reserve your personal copy today.
The following books are available as e-book downloads free of charge: