Take Control of the Dynamic-Mechanical Properties of Your Products
The DMA 303 Eplexor® is a highly precise and reliable analysis instrument that can handle a wide range of samples and applications. With its user-friendly software and improved ergonomics, it's the ideal device for intensive use in research and quality control laboratories.
The DMA 303 Eplexor® is extremely versatile: Thanks to its various accessories, such as sample holders and cooling systems, it can accommodate a variety of different testing requirements.
In addition to its user-friendly software, the DMA 303 Eplexor® features significantly improved ergonomics, making it pleasant to operate on a daily basis. Its various add-on options make it an ideal device to use and a safe long-term investment.
DMA 303 Eplexor® in summary
Broad Temperature and Force Range
800
°C
Temperature range
-170°C to 800°C
50
N
Force range
1 mN to 50 N
30
mm
Static deformation
up to 30 mm
Improving Your Products Requires Expert Technical Knowledge along with Material Analysis
‒
We Offer Both!
Controlled Force Range up to 50 N (static and dynamic)
Our material testing system is designed for precision measurements on very stiff samples with a controlled force range, both static and dynamic, of up to 50 N. The full resolution is available throughout the entire force range, resulting in precise and reliable data.
Temperatures of up to 800°C on the Sample
Featuring the broadest temperature range of -170°C to 800°C and homogeneous temperature distribution.
Time Saving ‒ Fast Heating and Cooling
With its thin-walled 3D-printed silicon carbide furnace lining, our system reduces waiting times with fast heating and cooling and allows for homogeneous temperature distribution due to two independent temperature control loops.
Suspended Sample Holder Design
The suspended sample holder system, in combination with the ability to adjust the height of the instrument, support the best possible ergonomics at the workplace. In addition, this setup protects the sensitive measuring system from the intrusion of falling sample fragments.
Various Cooling Options to Suit Your Requirements
i.e., liquid nitrogen-controlled cooling down to -170°C, or AIC 80 intracooler for measurements below room temperature down to -70°C.
The future is now!
Bring our devices into your laboratory with the click of a button.
Simply scan the QR code and get a 3D model of the instrument directly on your mobile phone or tablet. With the help of the latest AR Technology (Artificial Reality), the 3D model can easily be placed in your laboratory in its original life size. This function is browser-based and requires no app.
Find out and be amazed!
Technical Data
Frequency range
0.001 Hz bis 150 Hz
Maximum controlled amplitude
± 2.5 mm
Get the Job Done More Easily
The most user-friendly DMA you have ever experienced
Back-friendly - highly ergonomic design
The height of the sample holder area can be adjusted, allowing ergonomic work regardless of the user's height or preference for standing or sitting.
Easy on the eyes - Illuminated sample holder area
The integrated light source provides additional illumination and makes specimen and sample holder exchange even more comfortable
Instant access to important information‒ Color info display and LED status bar
The integrated LED status bar keeps you informed with regard to the course of the measurement as well as the force, frequency and temperature used.
Intuitive and tool-less. No more cumbersome exchanging of sample holders and specimens
The instrument allows for convenient switching between a variety of sample holders. It auto-detects sample holders and chooses the correct calibration. The exchange is tool-free and, thanks to fixed guides, sample holders are easy to install.
Research without limits ‒ over 20 different sample holders from which to choose
The latest selection of sample holders has been designed for optimal adjustability to measurement conditions and material properties to serve a variety of applications. Additional design modifications provide high frame rigidity with very low Conduttività TermicaThermal conductivity (λ with the unit W/(m•K)) describes the transport of energy – in the form of heat – through a body of mass as the result of a temperature gradient (see fig. 1). According to the second law of thermodynamics, heat always flows in the direction of the lower temperature.thermal conductivity for perfect results.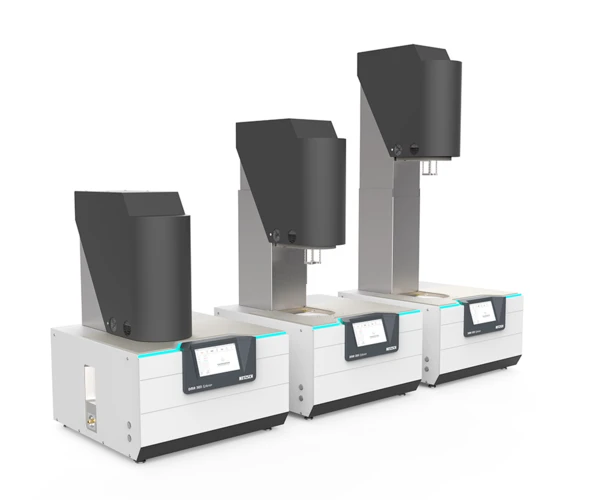 KEY NOTE: Take Control of the Mechanical Behavior of Your Products
A Single DMA that Meets All Your Needs
Flexibility and convenience – even when it comes to software and accessories