Glossario
Modello di Burger
Il Modello di Burger è un modello generale per la viscoelasticità di un materiale usato comunemente per descrivere misure classiche di creep-recovery (vedi Creep).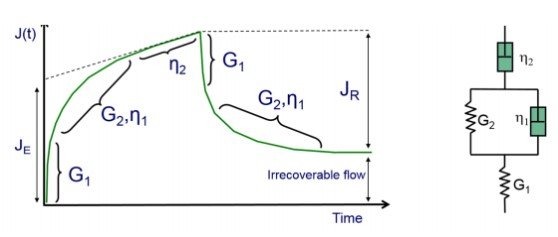 Questo modello prende in considerazione una combinazione di molle e dissipatori posti in serie e in parallelo.
Pertanto, nel Modello di Burger Shear Modulus G*G or shear modulus is defined as the ratio of shear stress and shear strain.G1 e η2 sono indipendenti in serie e descrivono separatamente le componenti elastica e viscosa di un materiale.
G2 e η1 sono collegati in parallelo descrivendo così la risposta e visco-elastica del campione: quando viene applicato un carico, la risposta elastica immediata della molla è smorzata (rallentata) dal dissipatore viscoso.
Quando il carico viene rimosso, G2 recupera pur essendo smorzato da η1; G2 recupera completamente se il carico applicato è lineare, ossia entro la regione visco-elastica lineare.