ISO 5660-1に準拠した火災試験および火災安全工学用
コーンカロリーメーター
コーンカロリーメータは、ISO5660-1規格に記載されている「火災に対する反応」試験を行うために使用されます。この試験では、100×100mm、最大高さ50mmの試験片を装置のロードセルに設置します。試験片はコーンヒーターによって制御された輻射熱により加熱され、試験片より発生したガスをスパークによって点火し、燃焼させることができます。TCC 918は燃焼ガスを分析し、一定の熱流束にさらされている試験片から発生する煙を測定します。この原理は「酸素消費原理」と呼ばれ、熱量測定の方法の一つです。 一酸化炭素や二酸化炭素の濃度を分析することで精度を高めることができます。
TCC 918は、ISO 5660-1, ASTM E1354, ASTM E1474; ASTM E1740, ASTM F1550など確立されたすべての規格に適合しています。
Analysis of Gases and Measurement of Smoke Density
The combustion gases produced pass through the heating cone and are collected by an exhaust duct system with a centrifugal fan and hood. A laser photometric beam determines the amount of smoke produced. The TCC 918 is equipped with the robust Siemens ULTRAMAT/ OXYMAT 6E, featuring corrosion-resistant materials in the gas channel. It serves for the detection of two infrared components, CO and CO2, as well as O2 in accordance with the standards.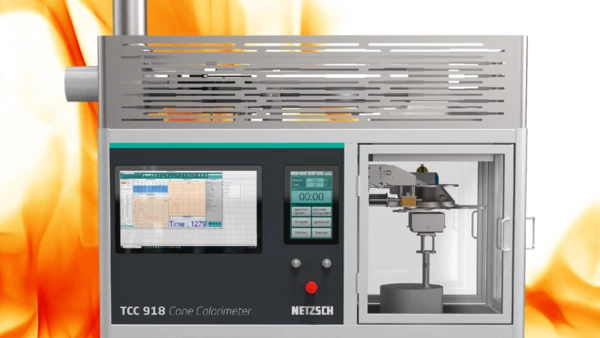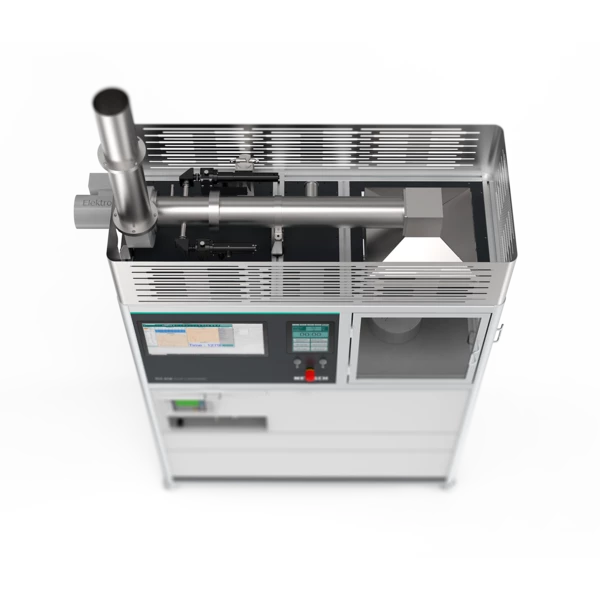 Determination of the Heat Release Rate (HRR)
The HRR is the driving force of a fire. Therefore, the higher the HRR, the higher the flammability and the consequential fire hazard. The TCC 918 measures the gas flow and oxygen concentration to calculate the quantity of heat release per unit of time and surface area. It is calculated from the oxygen concentration in the flue gases (percentage of oxygen consumed during combustion). The heat release rate (HRR) is expressed in J/s or W. The development of HRR as a function of time is typically used to analyze fire properties.
Features that Make the TCC 918 Outstanding
Exhaust system and burning chamber designed for extended lifetime
Robust, fast moving igniter with variable pulse width and duration to investigate ignition behavior
Effective Peltier device for gas cooling without mechanical parts and drying without toxic drying agent
Stable and robust laser system for smoke production measurement
Mass flow controller for methane
Integrated computer system with two touch panels for parameter definition and visualization. No additional PC required.
No monthly payment for software licensing and free updates
Gas Analyzer SIEMENS ULTRAMAT/OXYMAT 6E for measurement of O2, CO and CO2 components
Adapter for FT-IR coupling
Sartorius high precision balance
Videos
The new Cone Calorimeter TCC 918 Live demo