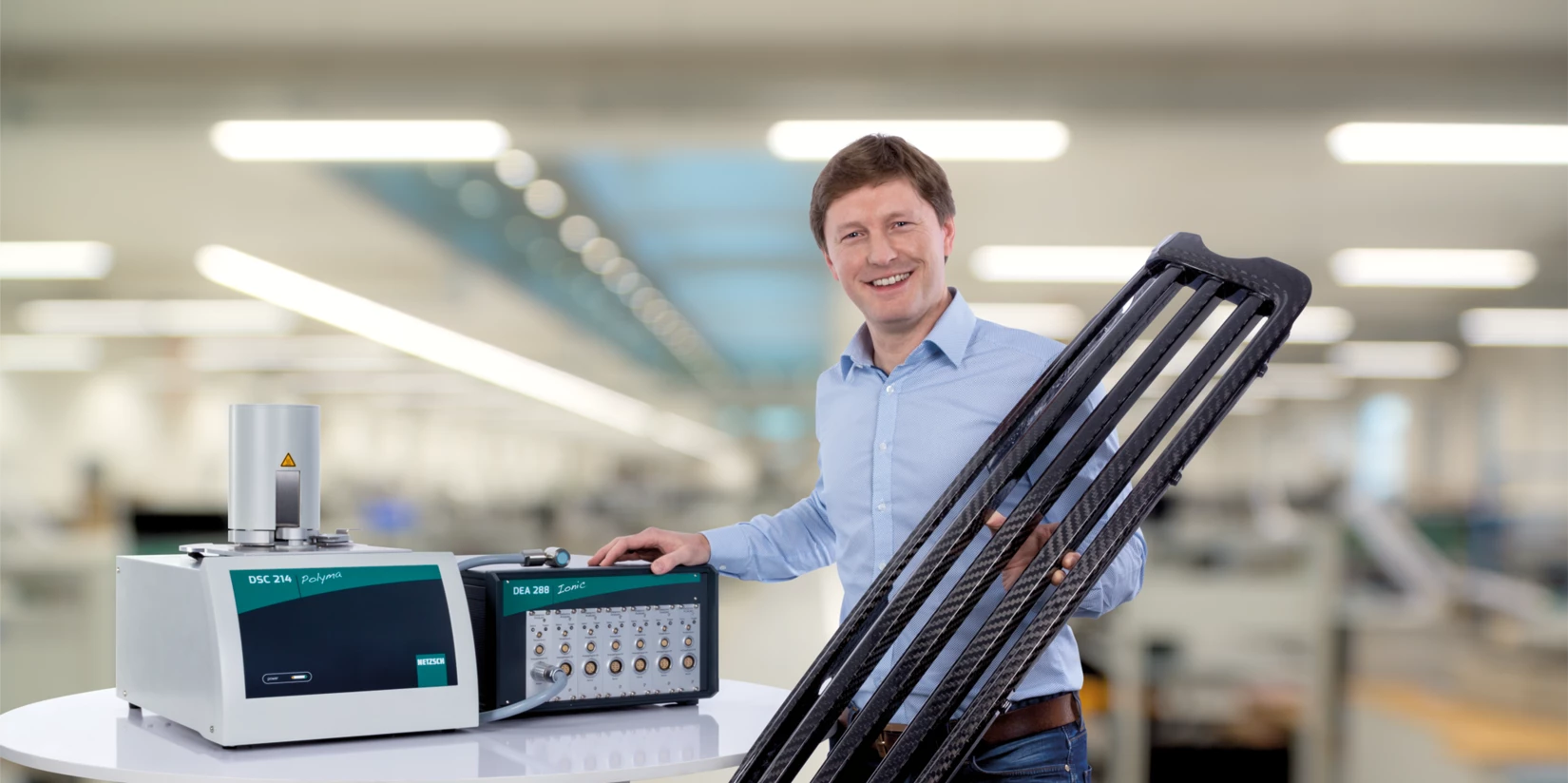 DEA
Análise Dielétrica (DEA)
Para investigação de comportamento de cura de sistemas de resina termofixa, materiais compósitos, adesivos e tintas, a Análise Dielétrica (DEA), de acordo com as normas ASTM E2038 ou E2039, tem resistido aos testes de tempo.
A grande vantagem do DEA é que ele pode ser utilizado não somente em escala laboratorial, mas também no processo de produção do plástico. Sensores dielétricos, integrados dentro do molde, medem as propriedades cruciais do material para monitorar e prever a qualidade da peça.
Juntamente com a solução sensXPERT®®, podemos alcançar uma significativa redução de sucata bem como um aumento de eficiência e transparência.
Para medições da condutividade do íon, que é calculada através do fator de perda dielétrica, ou através do seu valor recíproco, a viscosidade do íon, A NETZSCH oferece sistemas DEA com canal singelo ou de múltiplos canais, dependendo da aplicação, trabalhando em várias faixas de medição e freqüência com diferentes tipos de sensores.
DEA is the most powerful measurement technique for the critical, invisible in-mold curing that dictates the quality of a component.
DEA 288 Ionic
Dielectric Analyzer
Opening a New World of Cure Monitoring - Customized Test Conditions
The multi-functional design of the DEA 288 Ionic allows for the application of a great variety of different test conditions such as heat, cold or UV light. This enables the user to easily and conveniently determine the best parameters for processing the material.
sensXPERT®
Innovative sensors creating intelligent molds
Material science builds the foundation of the machine learning algorithm. Together with data of your machines, optimal curing of the material is predicted. The cutting edge software dynamically adapts your production process and eliminates the need of costly quality control after production. sensXPERT® increases your production efficiency, minimizes scrap rates and enables you to run a more robust, reliable and reproducible plant.