The DSC 300 Caliris® Is the Most Comprehensive, Most Reliable and Versatile DSC for Material Characterization on the Market.
No matter if you are working in research & development, quality control, contract testing or the specification of materials for certain applications, information about a material's behavior under changing temperature and different atmospheres is important.
The DSC 300 Caliris® can support:
Material identification
Process optimization
Quality control
Phase diagrams
Kinetic analysis
Compatibility
Modular Design – Maximum Flexibility
Ever-accelerating new material developments, triggered by fast-moving mobility and technical trends, require continuous adaptability. The new generation of NETZSCH DSCs is based on a modular concept. The DSC 300 Caliris® is the only instrument of its kind with interchangeable and exchangeable sensor-furnace modules. The Supreme version of the DSC 300 Caliris® allows the exchange of modules, to be able to adapt to current and future needs.
The DSC 300 Caliris® Supreme – The Future-Proof Choice
This version offers a choice of currently three modules and can be configured to achieve an unrivaled maximum temperature range of -180°C to 750°C. It is possible to update your device at any time to take advantage of the latest technological developments or to change your application. The choice of the module used remains unrestricted. Just choose between broad temperature range, fast heating rates or high sensitivity as needed.
The DSC 300 Caliris® Select – Tailor Made for Your Application
In the Select version of the DSC 300 Caliris®, there is an initial choice between three currently available modules. The maximum temperature range available in the DSC 300 Caliris® Select is -170°C to 650°C. The Select version allows for the exchange of modules of the same type avoiding instrument downtimes.
Both versions come with integrated color touch display, an LED status bar and can optionally be equipped with an automatic sample changer.
H-Module
High-Performance Module
-180°C to 750°C
The premium module impresses with a perfect baseline and outstanding reproducibility. The very small peak-to-peak noise ratio allows the detection even of the smallest peaks – the gold standard for most DSC applications. In combination with the Supreme version, this module covers the entire temperature range from -180°C to 750°C. The H-Module is an ideal complement for advanced materials research and development in both industry and academia.
P-Module
The Polymer-Module
-170°C to 600°C
This module is perfect for all tasks in the polymer field. Its optimized low-mass furnace allows for heating rates of up to 500 K/min over a wide measurement range. Temperature profiles approximating real processing conditions can be realized. Additionally, one can speed up the measurements and thus save valuable time. The P-Module is perfect for research and development or quality control in the polymer processing industry.
S-Module
The Standard Module
-170°C to 600°C
The routine module combines high stability and optimized resolution of thermal effects. Laser-guided welding processes for the sensor disks and thermocouple wires yield true sensitivity and robustness. The monolithic DSC sensor features high metrological stability and optimal resolution. The easy to handle S-module is the module of choice for industry and contract laboratories when routine measurements are the main task.
Technical Data DSC 300 Caliris®
Maximum Temperature Range
-180°C to 750°C
Maximum Heating Rate
0.001 K/min to 500 K/min
Automatic Sample Changer
192+12 positions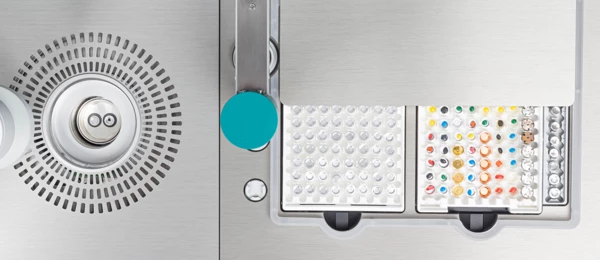 Enthalpy precision (H-Module):
± 0.05% for indium
Temperature precision (H- and P-Module):
± 0.01 K (standard deviation from mean value, indium)
Temperature accuracy (H-Module):
± 0.05 K (Indium)
Peak-to-peak noise ratio:
± 2 µW
Repeatability:
± 0.3% (peak area; In, C10H16, Zn)
Gas atmospheres:
Inert, oxidizing, static and dynamic
Cooling options:
Compressed air cooling (RT to 650°C/750°C)
Vortex tube (compressed air): < 0°C to 650°C/750°C
Compressed air with switch valve RT to 650°C/750°C
IC40 (-40°C to 600°C)
IC70 (-70°C to 600°C)
IC90 (-90°C to 600°C)
LN2 (-180°C to 650°C/750°C)

Heating/cooling rate:
H-Module: 0.001 K/min to 200 K/min
P-Module: 0.001 K/min to 500 K/min
(Maximum rates depend upon end temperature)
S-Module: 0.001 K/min to 100 K/min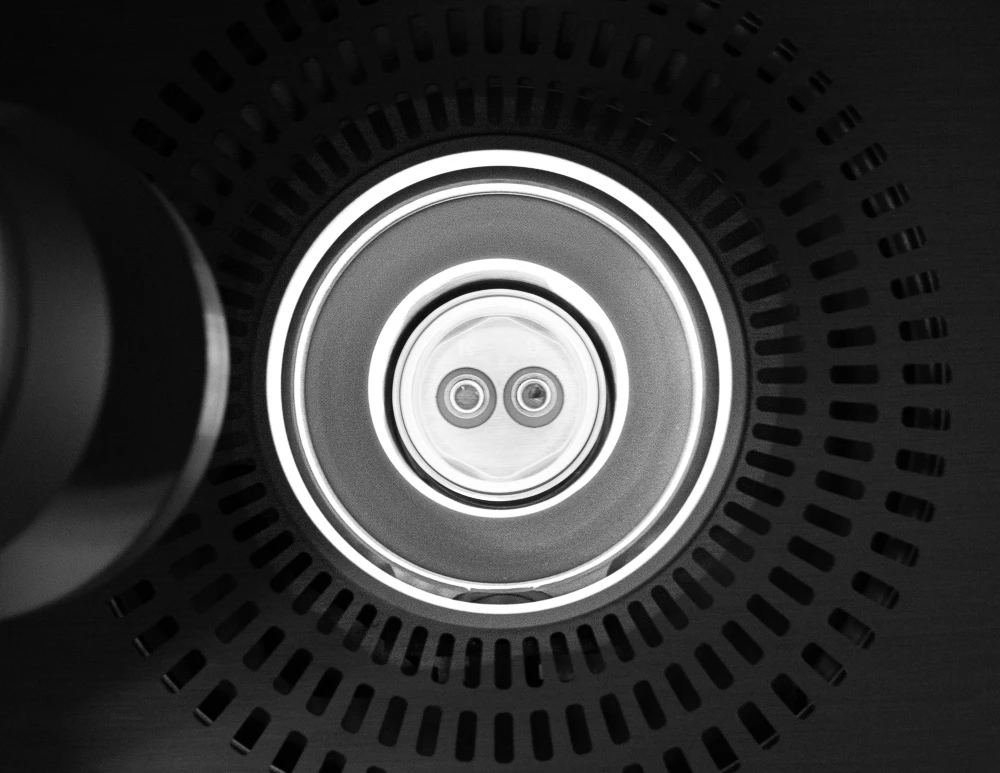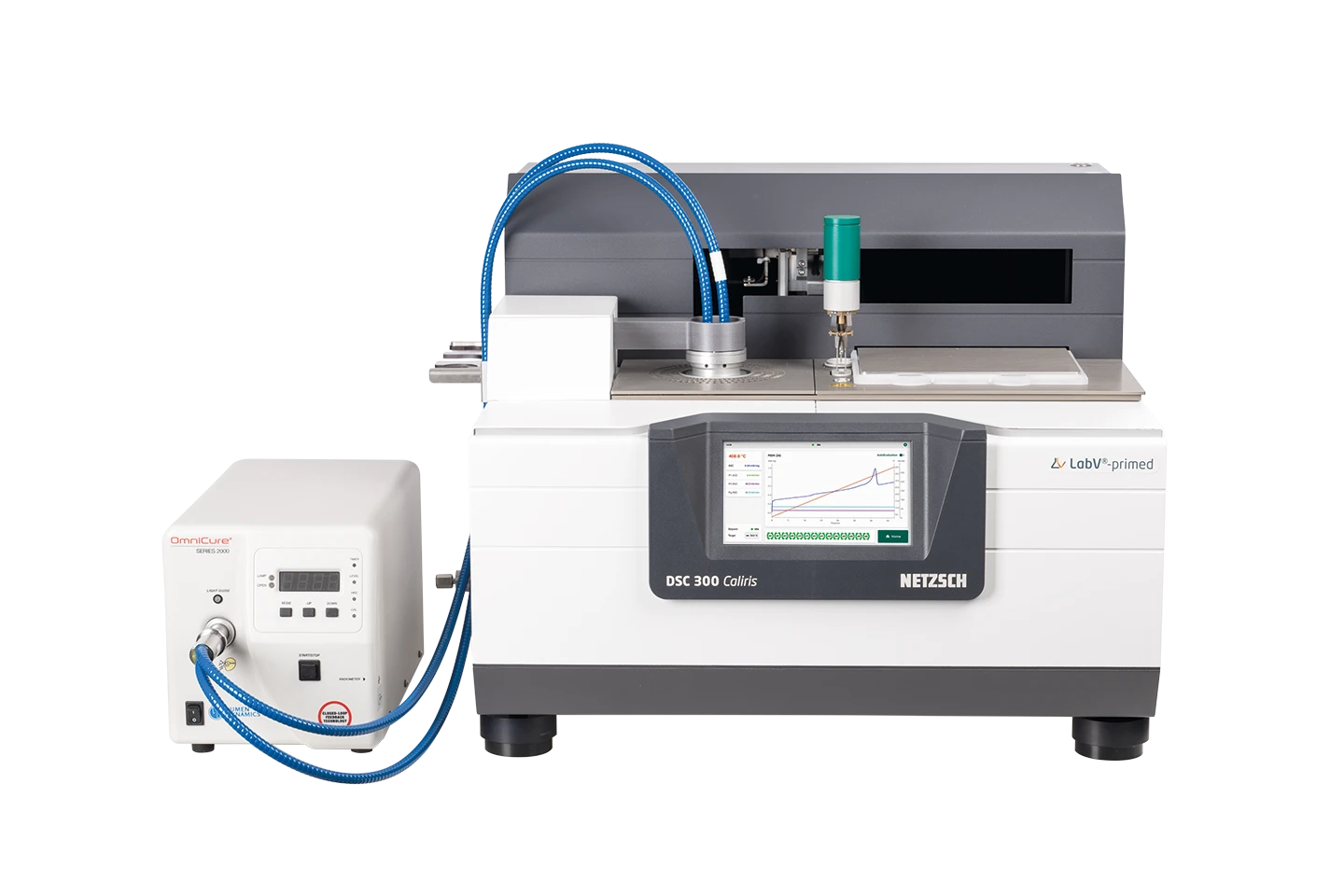 UV-Accessory:
Investigate Curing Reactions with Photo-Calorimeter.
For investigating curing reactions initiated by irradiation, such as UV or light, the ideal instrument to use is a photo-calorimeter or UV-DSC. The DSC 300 Caliris®, equipped with a UV accessory, is specifically designed for this purpose. In this instrument, the light guides are permanently installed in the moving furnace lid, ensuring immediate readiness for UV measurements. When needed, it is simple to exchange the lid to switch back to conventional DSC measurements, thus covering the entire temperature range.
Recommended light sources:
OmniCure®® S 2000: wavelength range 320 nm to 500 nm
LX500: wavelengths of 365 nm, 385 nm, 395 nm and 405 nm.
However, if desired, other commercial lamps can also be adapted for use.
The future is now!
Bring our devices into your laboratory with the click of a button.
Simply scan the QR code and get a 3D model of the instrument directly on your mobile phone or tablet. With the help of the latest AR Technology (Artificial Reality), the 3D model can easily be placed in your laboratory in its original life size. This function is browser-based and requires no app.
Find out and be amazed!
Proteus®
Software – The Easy Approach to Your Work
Proteus®: Excellent Thermal Analysis Software
The DSC 300 Caliris® runs under Proteus® software on Windows and includes everything you need to carry out a measurement and evaluate the generated data. The combination of intuitive menus and automated routines makes data interpretation straightforward, even on advanced tasks. The Proteus® software is licensed with the instrument but can also be installed on other computer systems.
Control over your measurements without logging into the PC
KEYNOTE – Caliris® Supreme & Select
Literatura de aplicativos