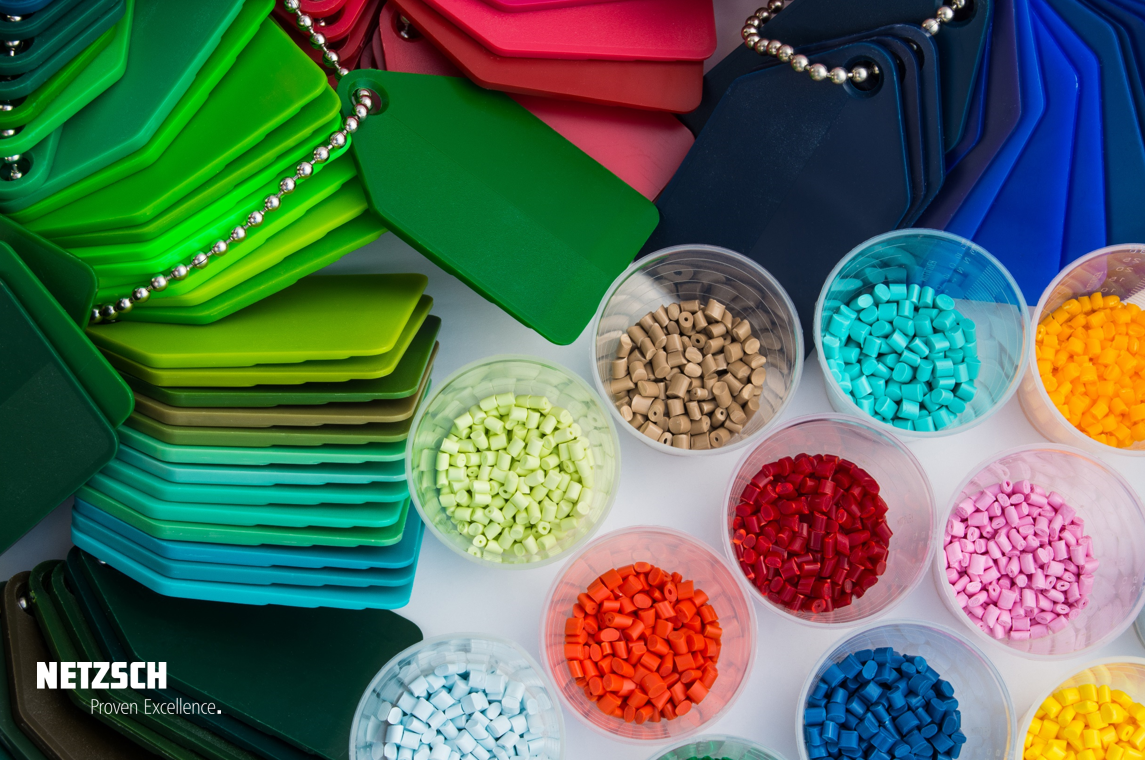 15.02.2021 by Dr. Natalie Rudolph, Milena Riedl
Why We Participate in Round Robin Tests and Why You Should Too
This year, NETZSCH will again participate in various round robin tests. Learn more about why round robin tests can be interesting for you and how you can participate in the round robin tests of the Kunststoff-Institut Lüdenscheid in Germany.
What is a round robin test?
A round robin test (also called a laboratory proficiency test or interlaboratory comparison) is a method of external quality assurance for measurement methods as well as measuring and test laboratories. Each participating laboratory receives identical samples, the same measuring, testing and analysis tasks and along with the same time period to carry out the tests. This allows comparison of the results and statements to be made and the measurement accuracy of the participating institutes to be compared.
How is the evaluation made in round robin tests?
Each test method has a certain accuracy determined from the correctness and precision of the measurement results. From the total results of all participants, values for performance assessment can then be determined. In order to keep the influence of outliers as low as possible, a robust, statistical method can be applied to determine the relevant estimated values. Each laboratory has in its results a certain deviation from the best value estimated. This deviation is used for the final performance assessment of the respective laboratory's test method.
What is the typical procedure?
Participation in the international proficiency tests of the Kunststoff-Institut Lüdenscheid is not limited by specific guidelines. Knowledge and possibilities to carry out the respective test procedure are sufficient for participation.
A round robin test is characterized by four phases:
Registration: Information about the offer for round robin tests is provided online, where interested laboratories can also register.
Preparatory phase: The participants will be granted access to an online portal. The information listed here, such as details on the sample material or instructions for sample preparation and how to carry out the test, can be used for preparation. At the end of the preparation phase, the samples will be shipped.
Testing phase: All participants carry out their tests and analyses. The test results will be entered into the online portal and confirmed.
Evaluation phase: The statistical data analysis will be completed. The proficiency test will be checked for plausibility and subsequently, the report and participant certificate will be sent to the participants.
Why is participation recommended?
Round robin or proficiency tests are a tool for quality assurance and are aimed at laboratories and companies that wish to safeguard their own testing performance. Reasons for participation are in particular:
Regular participation in interlaboratory comparisons provides proof of performance within the standard requirement of ISO/IEC 17025.
Results of round robin tests can be used as proof of competence for customers and for marketing purposes.
Participation is simple and cost-effective and the laboratory's own performance is verified in the usual industry environment.
Round robin tests allow for insight into the performance of techniques and equipment
They also offer an ideal opportunity to train personnel and promote quality awareness for everyday testing.
NETZSCH regularly participates in round robin tests with a focus on plastics
NETZSCH Analyzing & Testing regularly take advantage to subject a selection of measurement methods and implementation techniques to an external quality assurance process. In addition, participation allows us to classify our measurement quality with samples of a defined standard for new and further developments of instruments and techniques. Particularly in the case of plastics, this is sometimes challenging since there is a variety of materials with finely graded differences in properties and the properties of plastic components and samples are influenced by the production process. Due to these round robin tests of the Kunststoff-Institut Lüdenscheid, we obtain well validated values. Our next participation will be in the area of plastic analysis in the round robin tests of the Kunststoff-Institut Lüdenscheid.