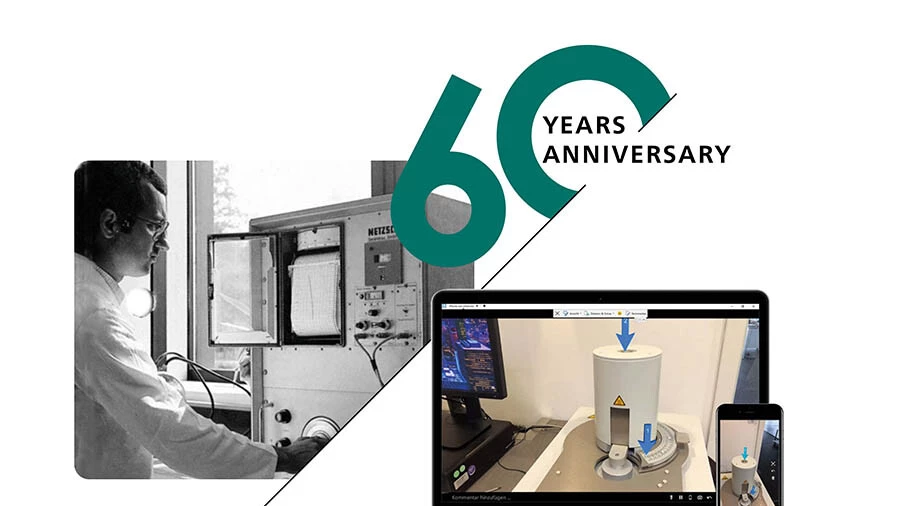 25.08.2022 by Aileen Sammler
60 Years of Service: Application Measurement and Contract Testing with Precision
Along with a wide product range, NETZSCH offers a service portfolio that includes application measurement and contract testing to help customers minimize risks, improve quality and save costs.
NETZSCH offers a wide variety of different services to customers today:
Installation support and repair service
Introduction and training in hardware and software at the NETZSCH Online Academy
Training and application consulting
Contact before the end of the warranty period
Individual and flexible service agreements
Offer for additional software packages and expansions, spare parts and accessories
Software installation and update service
Hotline and video remote support
Support and emergency service during the instrument's entire service life
Contract testing in one of our applications laboratories located around the globe
Today, we will dive into more detail about our contract testing offerings: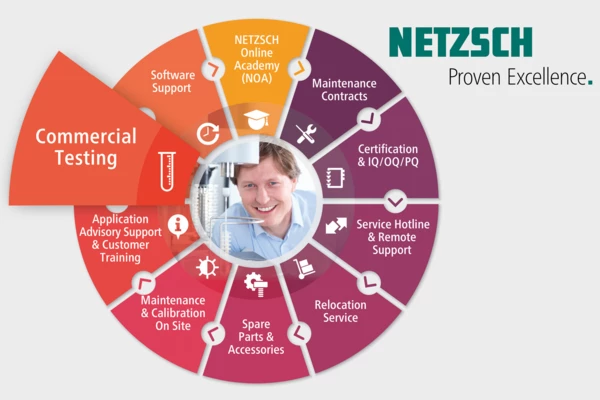 NETZSCH – We Test It for You
NETZSCH Analyzing & Testing is a proficient and skilled partner for issues related to thermal analysis, rheology and fire testing. Along with a wide product range, NETZSCH offers a service portfolio that includes application measurement and contract testing to help customers minimize risks, improve quality and save costs.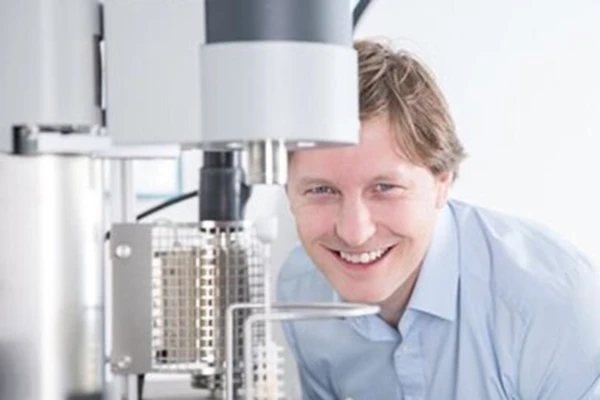 Application Measurement and Contract Testing with Precision
NETZSCH offers a variety of measuring methods that record information about mass changes, Thermal StabilityA material is thermally stable if it does not decompose under the influence of temperature. One way to determine the thermal stability of a substance is to use a TGA (thermogravimetric analyzer). thermal stability, phase transformation temperatures, visco-elastic behavior, Thermal DiffusivityThermal diffusivity (a with the unit mm2/s) is a material-specific property for characterizing unsteady heat conduction. This value describes how quickly a material reacts to a change in temperature.thermal diffusivity and other results. A temperature range from -180°C to 2800°C allows for flexibility while attaining accurate results for measurements under extreme conditions. The techniques used further ensure that samples of different geometries and configurations can be tested and analyzed. Characterization of materials in the forms of solids, powders, and liquids is possible. Customers from a wide range of industries, such as automotive, electronics, chemical, air/space travel, polymers, and ceramics, have used our laboratory services for decades.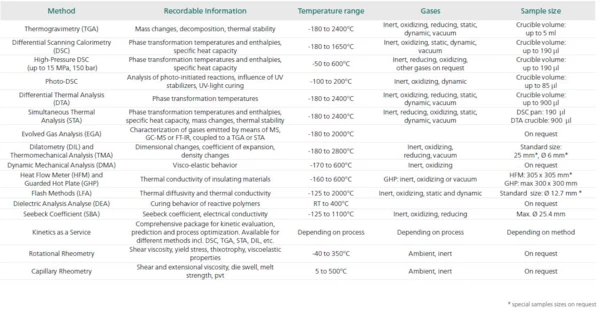 NETZSCH application measurement and contract testing is offered by our laboratories in Germany as well as in Boston (USA).
The customer journey is tailored to the specific needs of each company and begins with sample preparation. The state-of-the-art approach and diverse measurement methods that are used at NETZSCH allow us to answer specific and detailed questions and to deliver useful interpretations and recommendations. During the entire process, customers are provided with expert knowledge from different academic specialties; chemists, physicists, mineralogists, geologists and many other natural scientists serve as contact persons and conduct the necessary tests and examinations to provide valuable results. Many production problems at a customer's site can be solved, for example, by conducting causal analysis and working out solutions to address the source of the issue.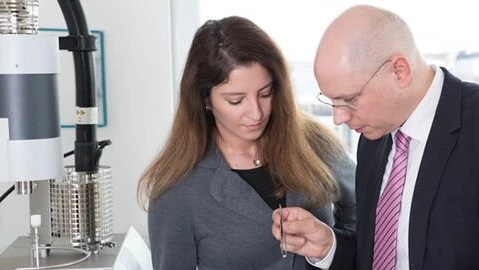 Customer Benefit
We provide our customers with measurement results and valuable interpretations that can be used to improve the quality and reliability of their products. This helps reduce downtimes and failure rates and leads to an increase in downstream satisfaction.
Our customers receive precise measurement results that enable them to create specifications for materials and components and to test them before they are deployed.
Contract testing boasts a high cost-benefit ratio, saving customers time and money while measuring with the technology best suited for the task at hand, all run by specialists. Read on next week to learn how our regional customer, Sandler AG, benefits from NETZSCH contract testing.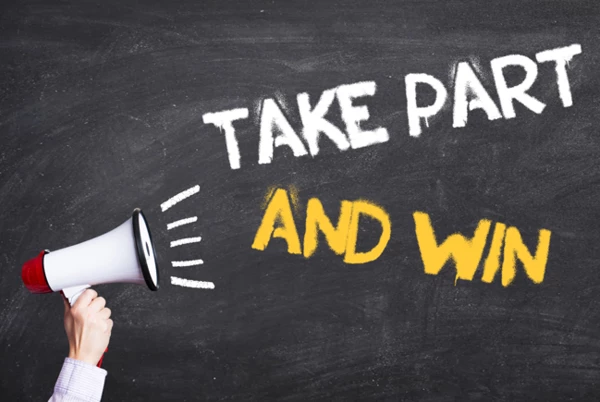 Take Part in our Raffle!
It´s your turn now!
Send us your story about your best experience with our NETZSCH-Service to NGB_Marketing@NETZSCH.com.
Win a voucher** in the amount of 1,500 €, redeemable for such transactions as the purchase of a spare part or accessory, the booking of a customer training session (on-site, online, NOA) or contract testing, the commissioning of a repair, or the purchase of one of our analyzers. Entry deadline is September 9!
**The voucher is company-specific and can only be redeemed for a product or service. It is not possible to receive cash payment nor to transfer to third parties. In Germany, the voucher is to be regarded as "gross" for tax purposes.