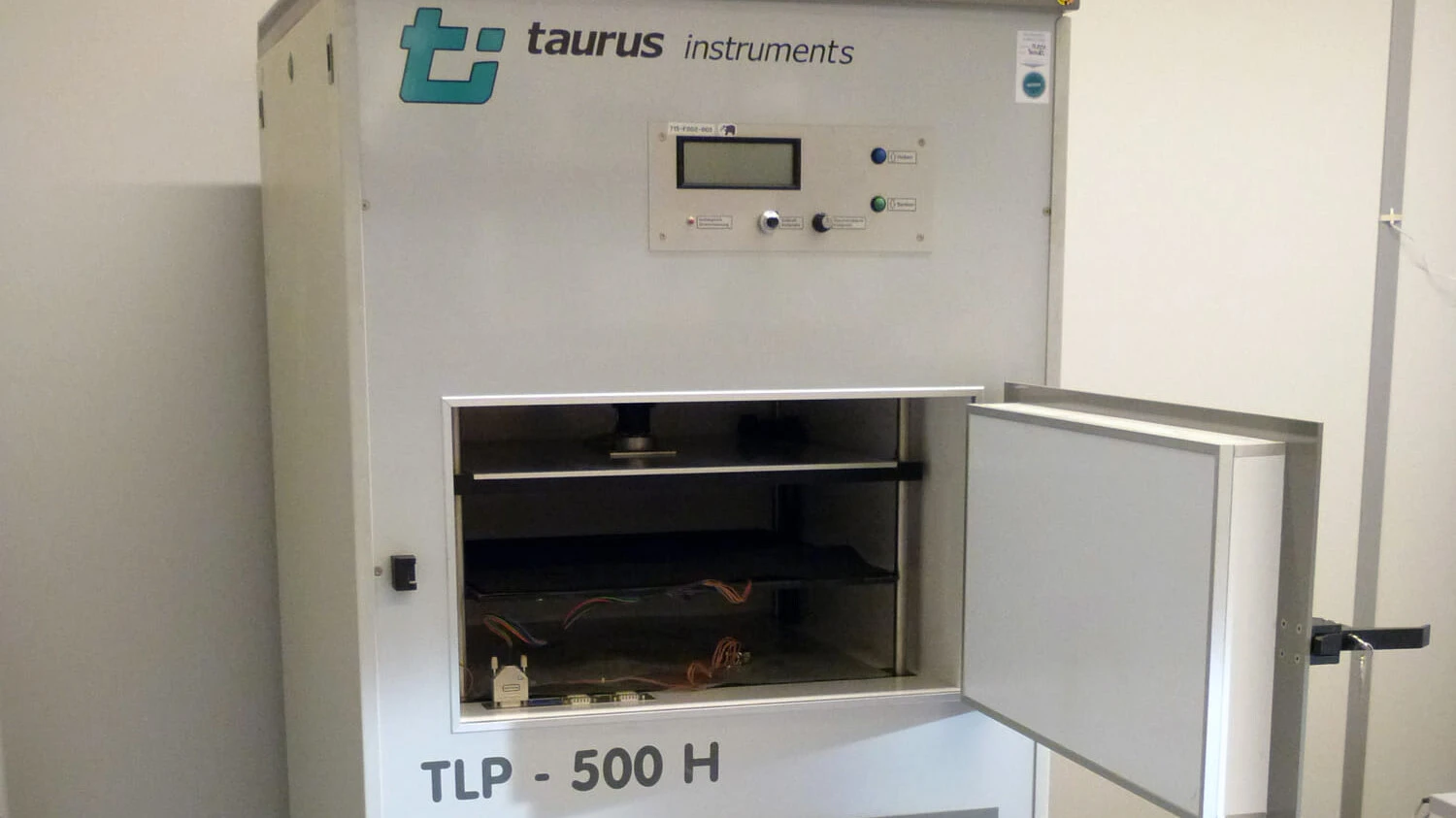 26.01.2023 by Aileen Sammler
Who Has the Oldest NETZSCH TAURUS
Instrument Still in Use?
As part of our 60th anniversary, we looked into the history of our NETZSCH TAURUS fire testing devices in November and asked: Who has the oldest NETZSCH TAURUS Thermal Conductivity Instrument or Fire Testing System still in use? Now we've found the winner!
Congratulations to IAB Weimar - Institute of Applied Construction Research: Their TLP-500H (TLP = today's GHP) Conductivité ThermiqueThermal conductivity (λ with the unit W/(m•K)) describes the transport of energy – in the form of heat – through a body of mass as the result of a temperature gradient (see fig. 1). According to the second law of thermodynamics, heat always flows in the direction of the lower temperature.thermal conductivity tester from 2002 is the oldest device still in use.
IAB identifies the trends and requirements in the building industry and develops new, forward-looking products, technologies and processes together with its customers. For experimental tests, the institute operates an accredited test laboratory in accordance with DIN EN ISO/IEC 17025:2005, where tests in technical-physical, mechanical and thermal fields of mortar, concrete and masonry blocks as well as for ceramic raw materials are carried out. Here, the NETZSCH TAURUS TLP thermal conductivity tester comes into play.
IAB Weimar told us:
"The TLP-500H has been an integral part of our building materials research for 20 years. It has been running reliably ever since and is an important instrument in our accredited testing laboratory. We use the thermal conductivity tester device to record the thermal insulation properties, for example, of lightweight mortar, lightweight concrete or granulates that we produce from recycled masses. Particularly with the background of the steadily increasing requirements of the German Heat Insulation Ordinance (Wärmeschutzverordnung) and the resulting increasing challenges for the building materials used, knowledge of thermal conductivity is becoming more and more important. In this context, the TLP-500H supports us especially in the development of new and innovative building materials as well as in the creation of new concepts for a resource-saving future. In conjunction with other instruments from NETZSCH TAURUS, we already took a decisive step years ago towards a more environmentally friendly wall building material: Whereas masonry blocks are currently filled with mineral wool or rock wool to achieve thermal insulation, we have developed a mineral foam that features almost the same thermal insulation properties as previous fiber materials. The use of the mineral foam eliminates the risk of carcinogenic fiber contamination during installation and demolition. Moreover, recycling of the new stone is also significantly improved. This development would not have been possible without the use of instruments manufactured by NETZSCH.
The testing system is regularly inspected by TAURUS - there have never been any complaints so far."
Many thanks to IAB Weimar for the contribution and taking part in our raffle! We are looking forward to continuing our close collaboration.