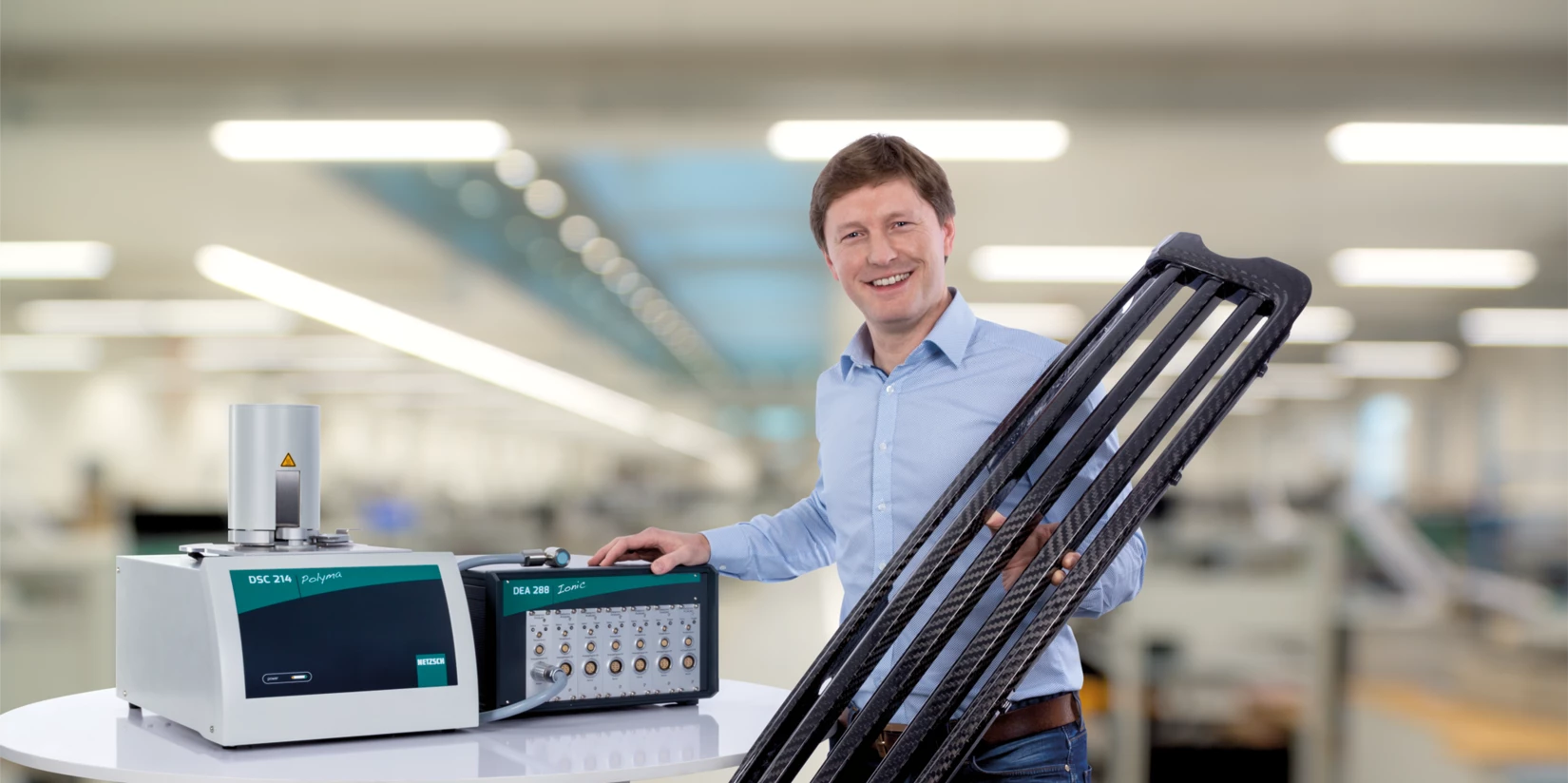 DEA
Analyse Diélectrique
Pour suivre le phénomène de réticulation de résines thermodurcissables, de matériaux composites, d'adhésifs et de peintures, l'Analyse Diélectrique (DEA) en accord avec les normes ASTM E2038 et E2039 est devenue au fil du temps incontournable.
Le point fort du DEA est de pouvoir être utilisé non seulement en laboratoire mais également en production. Intégrés dans le moule, les capteurs diélectriques mesurent les propriétés cruciales des matériaux afin de suivre et de prédire la qualité des produits finis.
En association avec la solution sensXPERT®®, une réduction des déchets et une augmentation de l'efficacité et de la transparence peut être atteinte.
Pour la mesure de la conductivité ionique, qui est calculée à partir du facteur de perte diélectrique, ou de son inverse, la viscosité ionique, NETZSCH propose différents systèmes DEA à simple ou multi canaux, en fonction de l'application, pouvant travailler dans différentes gammes de fréquence et de mesure avec différents types de capteurs.
DEA is the most powerful measurement technique for the critical, invisible in-mold curing that dictates the quality of a component.
DEA 288 Ionic
Dielectric Analyzer
Opening a New World of Cure Monitoring - Customized Test Conditions
The multi-functional design of the DEA 288 Ionic allows for the application of a great variety of different test conditions such as heat, cold or UV light. This enables the user to easily and conveniently determine the best parameters for processing the material.
sensXPERT®
Innovative sensors creating intelligent molds
Material science builds the foundation of the machine learning algorithm. Together with data of your machines, optimal curing of the material is predicted. The cutting edge software dynamically adapts your production process and eliminates the need of costly quality control after production. sensXPERT® increases your production efficiency, minimizes scrap rates and enables you to run a more robust, reliable and reproducible plant.