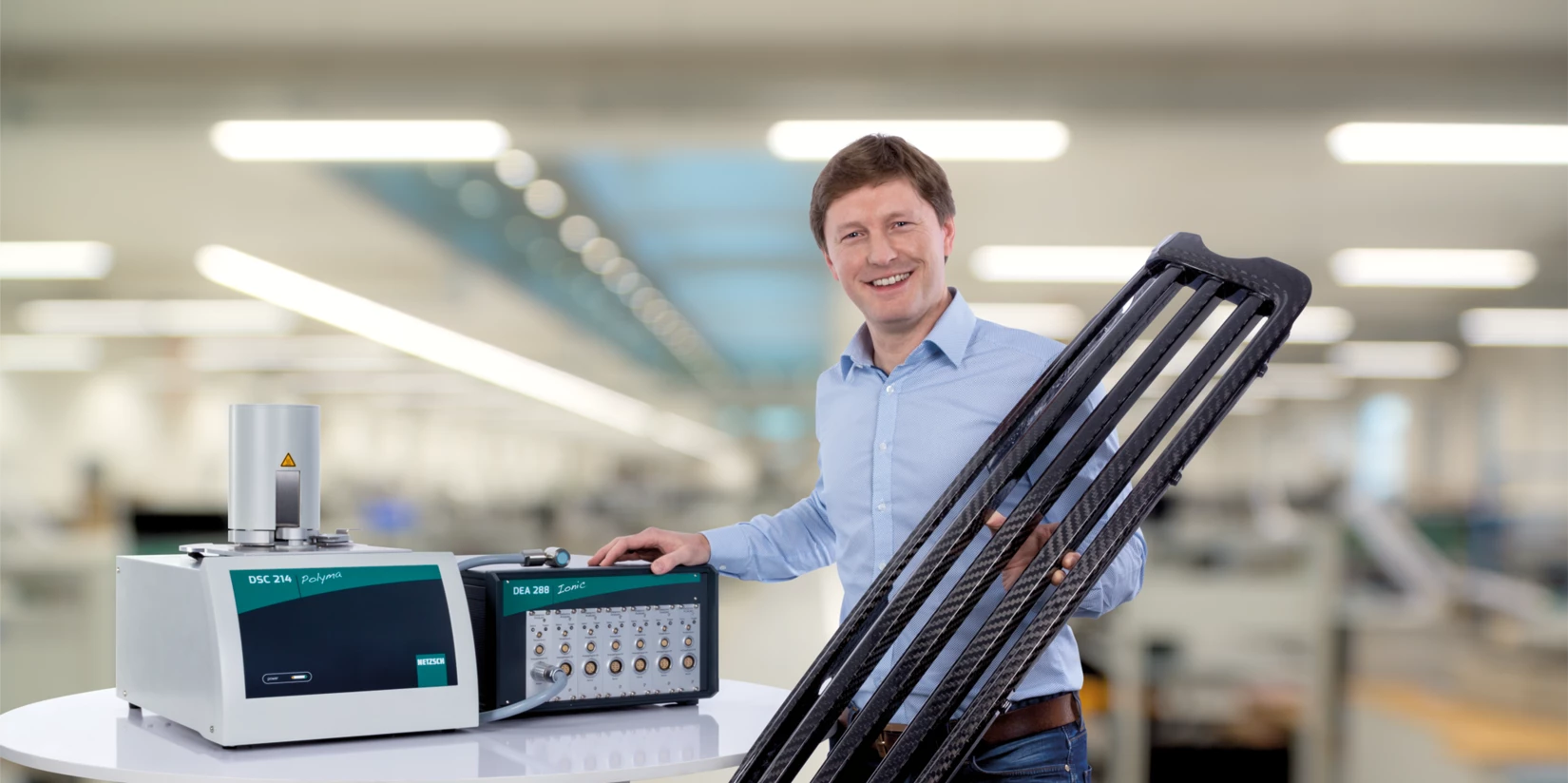 DEA
Análisis Dieléctrico (DEA)
El Análisis Dieléctrico (DEA), de acuerdo con la norma ASTM E2038 o E2039, ha probado su valía para la investigación del comportamiento del curado de los sistemas de resina de termofraguado, materiales compuestos, adhesivos y pinturas.
La gran ventaja de la técnica DEA es que puede emplearse no solo a escala de laboratorio, sino también en proceso de producción de plásticos. Integrados en el molde, los sensores dieléctricos miden propiedades cruciales del material para monitorizar y predecir la calidad de la pieza.
En conjunto con la solución sensXPERT®®, se puede lograr una reducción de los desechos y un aumento de la eficiencia y la transparencia.
NETZSCH ofrece sistemas DEA de un solo canal y de múltiples canales, dependiendo de la aplicación, que funcionan en varias escalas de frecuencia y de medición con diferentes tipos de sensores, para la medición de la conductividad iónica, que se calcula a partir del factor de pérdida dieléctrica o su valor recíproco, la Viscosidad iónicaIon viscosity is the reciprocal value of the ion conductivity, which is calculated from the dielectric loss factor.viscosidad iónica.
DEA is the most powerful measurement technique for the critical, invisible in-mold curing that dictates the quality of a component.
DEA 288 Ionic
Dielectric Analyzer
Opening a New World of Cure Monitoring - Customized Test Conditions
The multi-functional design of the DEA 288 Ionic allows for the application of a great variety of different test conditions such as heat, cold or UV light. This enables the user to easily and conveniently determine the best parameters for processing the material.
sensXPERT®
Innovative sensors creating intelligent molds
Material science builds the foundation of the machine learning algorithm. Together with data of your machines, optimal curing of the material is predicted. The cutting edge software dynamically adapts your production process and eliminates the need of costly quality control after production. sensXPERT® increases your production efficiency, minimizes scrap rates and enables you to run a more robust, reliable and reproducible plant.