Samples and Experimental
A total of five semiconductor devices were investigated:
1 copper lead frame without structure
2 structurally identical semiconductor devices with structure A
2 structurally identical semiconductor devices with structure B
The semiconductor devices consist of a copper leadframe onto which an Si chip was applied by means of connecting material (e.g., adhesive or solder). Semiconductor devices A and B differ only with regard to the connecting material. Figure 1 shows the schematic of such a sample.
The measurements were carried out with the LFA 467 HyperFlash® at room temperature. The entire sample was illuminated; the detector, however, was focused on a diameter of only 3.4 mm by means of the ZoomOptics , see figure 1.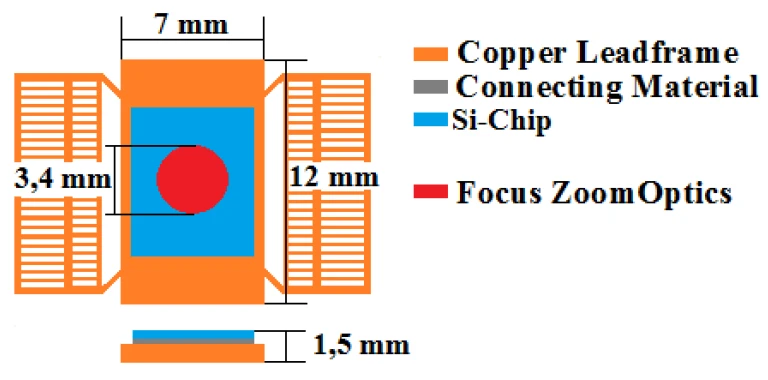 Summary
The LFA 467 HyperFlash® with ZoomOptics allows for the investigation of small samples or of only select areas within a sample. Peripheral areas or areas with differing sample thickness can thus be purposefully excluded, considerably increasing both the measurement's precision and the meaningfulness of its results.