Features of the DSC 204 F1 Nevio:
Software which actively supports you – AutoEvaluation and Identify
AutoEvaluation is the first truly self-acting software feature in thermal analysis. Intelligent algorithms are able to detect and evaluate thermal effects without any user intervention.
Identify is software for curve recognition and interpretation via database comparison. It can manage measurements (also those of a customer's own), literature data and classes. Numerous libraries are already included, amongst them also one containing data related to the fields of pharmacy, food and cosmetics.


All set for the future – various sensor types
The DSC 204 F1 Nevio can be equipped with different sensors to adapt the instrument to different application needs.


Excellent sensitivity and high resolution
With a value of more than 160 mW/K, the DSC 204 F1 Nevio with t sensor exhibits the highest indium response ratio on the market. This height-to-width ratio of an indium melting peak is an ideal criterion for describing the sensor performance.


Automatic sample tray identification
The instrument can be fitted with an automatic sample changer (ASC, optional) for measuring up to 192 samples plus up to 12 calibration materials or empty pans. If a new sample tray is inserted, the system recognizes the tray and its content automatically via an imprinted 2-D code.
Additionally, the optional piercing device perforates the lids of aluminum pans shortly before a given measurement starts.


Measuring methods independent of instrument
Measurement methods (which can comprise not only temperature programs but also evaluation of the resulting curve) can be used on each device of the same type and comparable configuration. This is particularly advantageous if several DSCs of the Nevio line (DSC 204 F1 or DSC 214 instruments) are installed in the lab.


Efficient and cost-effective cooling
In pharmacy, cosmetics and food, most DSC instruments are equipped with a mechanical cooling system (intracooler). However, if very low start temperatures are required, a liquid nitrogen cooling device can be simultaneously connected to the DSC 204 F1 Nevio. In this case, the LN2 cooling will only be activated at temperatures below -85°C, which reduces the liquid nitrogen consumption considerably.

The Proteus® Protect software meets the requirements of 21 CFR Part 11.
Technical Data
Temperature range
-180°C to 700°C
Max. cooling rate/max. heating rate
200 K/min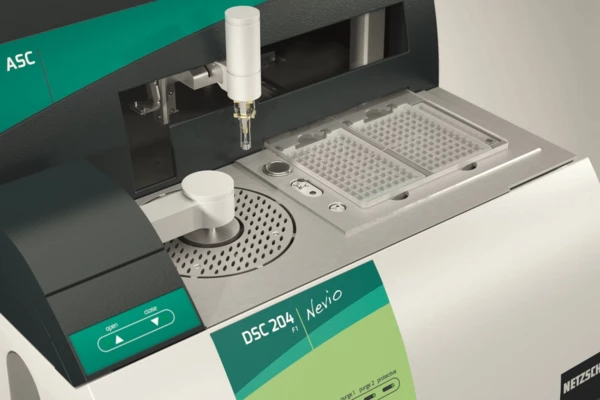 Enthalpy accuracy:
< 1%1)
TGA resolution:
n/a
Indium Response Ratio (*):
> 160 mW/K2)
Exchangeable sensors:
Yes
Cooling options:
Air compressor: RT to 700°C
Compressed air: < 0°C to 700°C
Intracooler: -85°C to 600°C
Liquid nitrogen: -180°C to 700°C
Gas atmospheres:
Inert, oxidizing, static and dynamic
1) for indium
2) using the equation published by B. Wunderlich, Thermal Analysis of Polymeric Materials, Springer (2005), page 346
Gas-tight/vacuum-tight:
Gas-tight
Mass flow controller for purge/protective gas:
3, integrated (0 to 250 ml/min)
Automatic Sample Changer (ASC):
Yes (optional)
Software:
min. Proteus® 8
Advanced Software extensions (optional):
Peak Separation
Kinetics Neo
Thermal Simulations
Size (W x H x D) – incl. ASC, without physical connections:
620 mm x 415 mm x 550 mm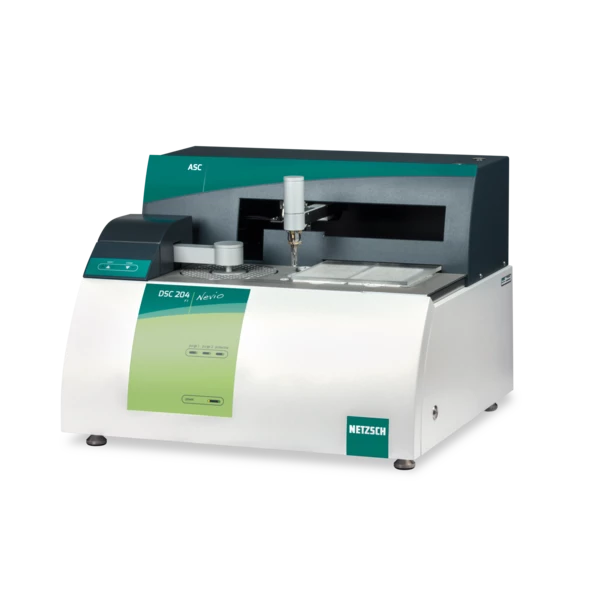 Videos
How Thermal Analysis Helps in the Pharmaceutical Development
An Intuitive Software to Facilitate Your Pharmaceutical Analysis NETZSCH Proteus®