Accurate measurements of heat build-up or blowout processes and the determination of the thermal set can be realised by our HBU 523 Gabometer system – a development based on the established Goodrich Flexometer.
Both force- and elongation-controlled tests can be carried out with this state-of-the-art type of flexometer. The HBU 523 Gabometer is suitable for improving the thermal dissipation and the durability of semi-finished tire components, dampers or absorbers.
Additionally, the new generation allows for measurement of the material stiffness (E modulus, tanδ option) and damping.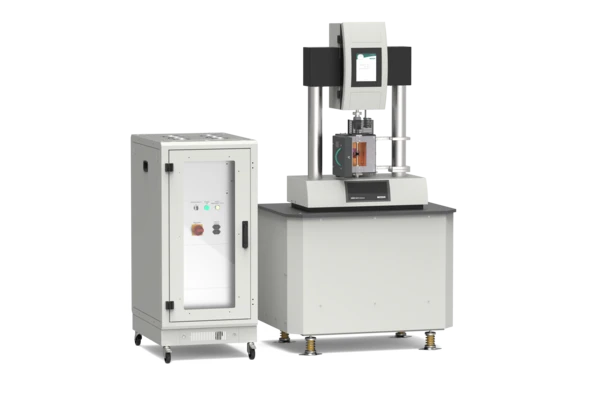 Automatic Sample Changer (ASC) for fully automatic testing (24h) (option)
Simultaneous measurement of the visco-elastic properties (option)
Visco-elastic properties in DMTS/DMA mode (option)
Hysteresis analysis (option)
Pulse load mode available (option)
Technical Data
Dynamic Strain Range
up to ± 15 mm
Static Deformation
up to 70 mm
Frequency Range
30 Hz
0.0001 Hz to 100 Hz (optional)
Temperature Range:
-160°C up to 300°C
Test Specimen Size:
Diameter: up to 30 mm (optional < 40 mm), depending on model
Length: 25 mm