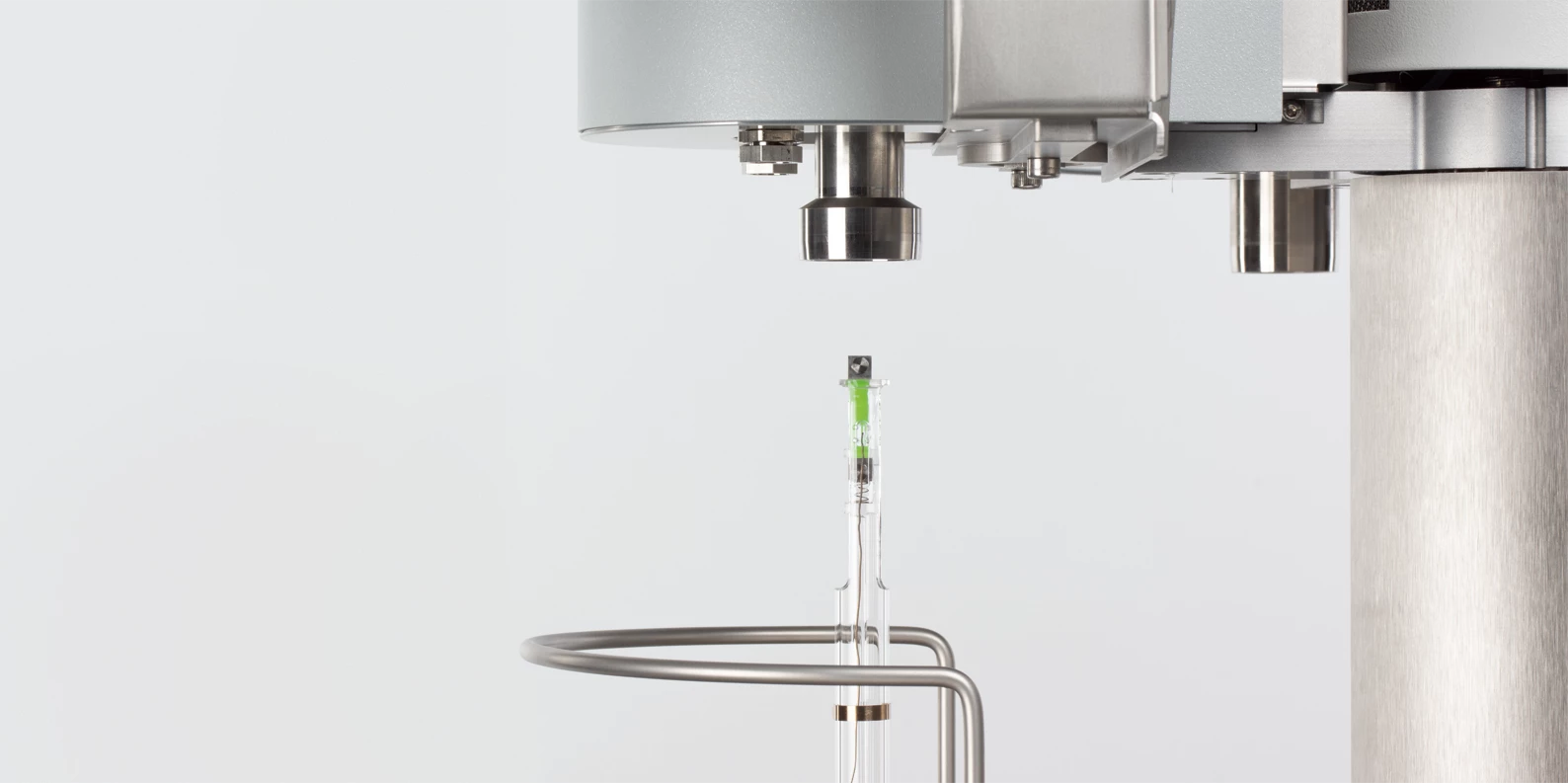 Analiza termomechaniczna
Analiza termomechaniczna (TMA)
Większość materiałów zmienia swoje właściwości termomechaniczne w trakcie grzania lub chłodzenia. Analiza termomechaniczna (TMA) umożliwia charakterystykę przemian fazowych, współczynnika rozszerzalności cieplnej, temperatury zeszklenia oraz punktów mięknięcia w warunkach obciążenia statycznego lub dynamicznego przy narzuconym reżimie temperaturowym.
Metoda (TMA) dostarcza wielu cennych i niezbędnych informacji dotyczących struktury i właściwości materiałów, optymalizacji procesu produkcji i późniejszego użytkowania materiałów. Jest to wszechstronna metoda stosowana zarówno w kontroli jakości, jak również w działach R&D, umożliwiająca charakterystykę szerokiej grupy materiałów takich jak: tworzywa sztuczne, elastomery, farby, ceramika, szkła oraz metale i kompozyty.
Analiza termomechaniczna (TMA) określa zmiany wymiarów ciał stałych cieczy oraz proszków w funkcji temperatury lub czasu w warunkach zdefiniowanego obciążenia zgodnie z normami: DIN 51 005, ASTM E831, ASTM D696, ASTM D3386, ISO 11359 – Część 1 -3.
Metoda TMA jest uzupełnieniem tradycyjnej dylatometrii (dylatometr pionowy), gdzie analizuje się zmiany długości próbki w warunkach zaniedbywalnego obciążenia (np. DIN 51 045).
TMA 402 F3 Hyperion® Polymer Edition
Thermomechanical Analysis – TMA - Tailor-Made for Low-Temperature Applications
Polymers undergo changes in their thermomechanical properties during heating and cooling. TMA analyses can give insights into molecular orientation and quenching effects during cooling. It allows the design of adhesives and other hybrid joints and quality control of shrink films.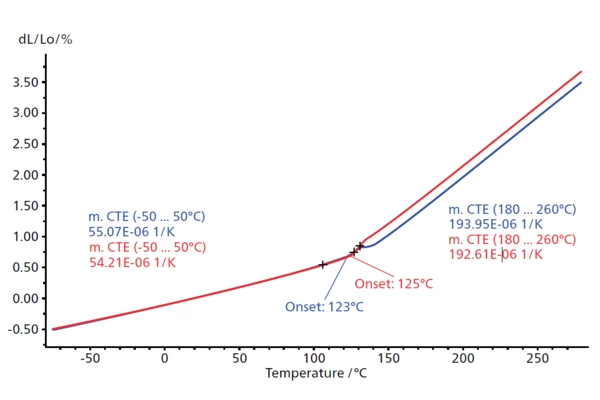 Thermal Expansion
The linear thermal expansion is an important variable for assessing the dimensional behavior of a material in response to a change in temperature.
This plot shows the thermal expansion (dL/L0 in %) of an epoxy resin between -70°C and 270°C. In the first heating (blue curve), the onset of the Glass Transition TemperatureThe glass transition is one of the most important properties of amorphous and semi-crystalline materials, e.g., inorganic glasses, amorphous metals, polymers, pharmaceuticals and food ingredients, etc., and describes the temperature region where the mechanical properties of the materials change from hard and brittle to more soft, deformable or rubbery.glass transition (Tg) occurs at 123°C. In the second heating (red curve), the onset of Tg is slightly shifted, to 125°C. This shift could be due to RelaxationWhen a constant strain is applied to a rubber compound, the force necessary to maintain that strain is not constant but decreases with time; this behavior is known as stress relaxation. The process responsible for stress relaxation can be physical or chemical, and under normal conditions, both will occur at the same time. relaxation effects or post-curing.
Literatura dotycząca zastosowań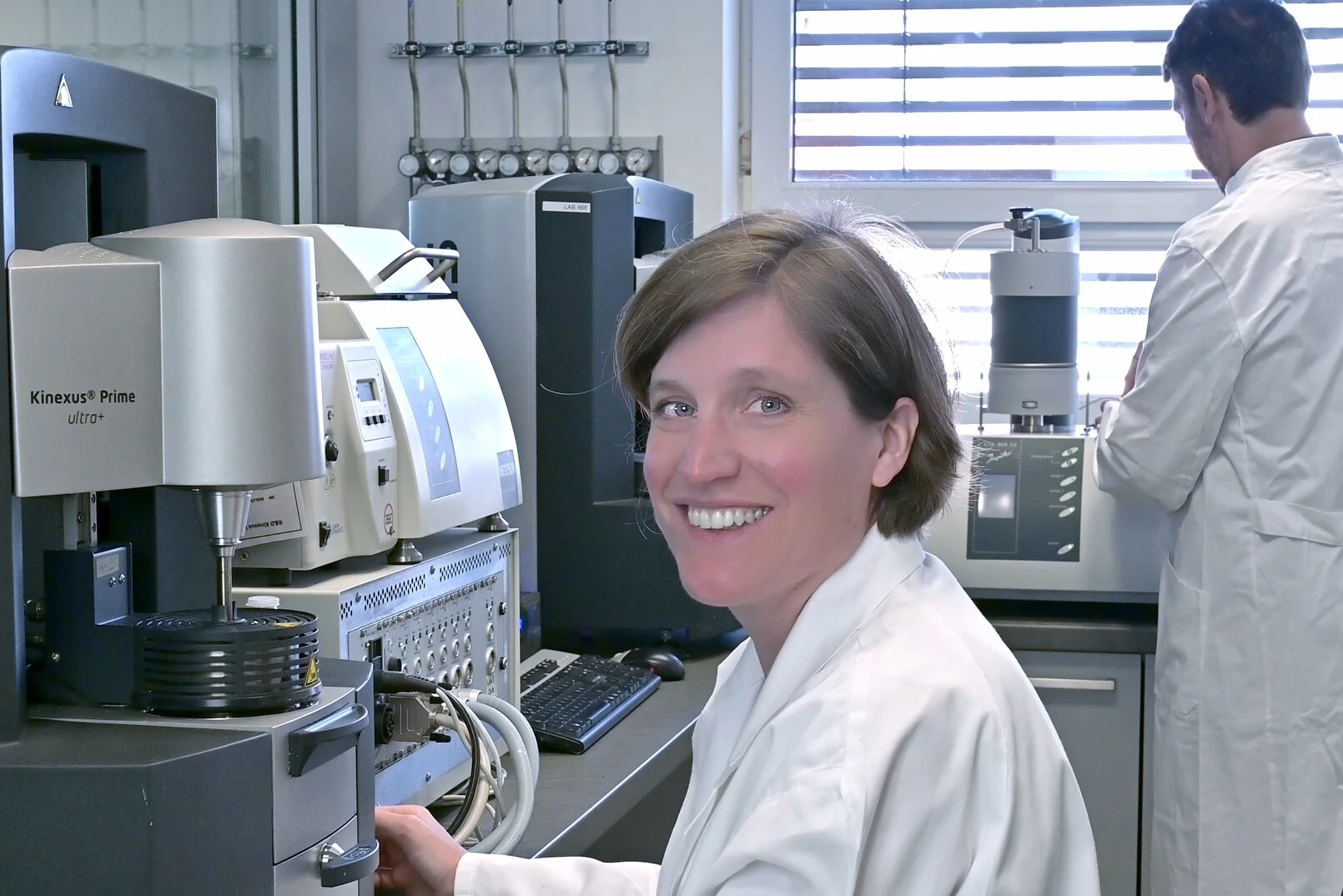 MEASUREMENT WANTED?
Our NETZSCH applications laboratory is providing contract testing services for a wide range of industries and research centers. It is equipped with state-of-the-art testing instruments allowing for a variety of thermal analysis measurements to be carried out.
Consult with the experts in our applications labs to choose the best-suited measuring method for your specific needs.