How to Obtain Shear Viscosity at Higher Shear Rates?
An easy way to obtain results at shear rates higher than 50 s-1 (in a rotational rheometer) is to use the Cox-Merz rule. This empirical relationship stipulates that for most unfilled polymer melts, the shear viscosity η can be predicted by the complex viscosity η*. An alternative solution for measuring flow behavior at faster processing conditions or higher shear rates can be achieved with the use of a high-pressure capillary rheometer.
What is Complex Viscosity?
The complex viscosity is obtained by an oscillation measurement. In this test, the upper geometry no longer rotates, but oscillates at a specified frequency (figure 3).

The difference (lag/phase δ) in the input and output sinusoidal signal defines the material properties of the sample (figure 4). These measurements are performed for amplitudes that are small enough not to destroy the sample's structure, so that applied strain and resultin stress are proportional and the frequency of the response is equal to that of the input frequency.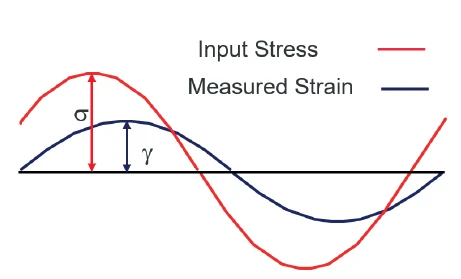 Conclusion
The example displayed shows a good agreement between the shear viscosity and complex viscosity in the low shear rate range. As soon as the material starts to flow out of the gap during rotation, the viscosity can no longer be determined by this type of measurement. The Cox-Merz rule, however, enables shear viscosity values to be determined using an oscillation measurement.