Introduction
The rheological properties of materials help understand and anticipate their behavior during the process. For example, they play a role in the lubrication ability, pumpability, flow (yield) point of lubricating greases.
Measurement Conditions
In the following, the shear viscosity of a lubricating grease is determined with the Kinexus pro+ under the measurement conditions described in the DIN 51810-1 standard. Table 1 and figure 1 summarize the test parameters specified in this standard.

Table 1: Measurement conditions
Geometry

CP/25 (cone-plate system, cone angle: 1°, plate diameter: 25 mm)

Temperature

25°C (±0.1°C)

Measurement gap

24 μm

Measurement program

Phase t1: 1 min at rest, 0 Pa

Phase t2: 1 min pre-shear, 100 s-1

Phase t3: 2 min at rest, 0 Pa

Phase t4: Linear increase in shear rate from 0 to 1000 s-1 in 1 min

Phase t5: 5 min at a constant shear rate (1000 s-1)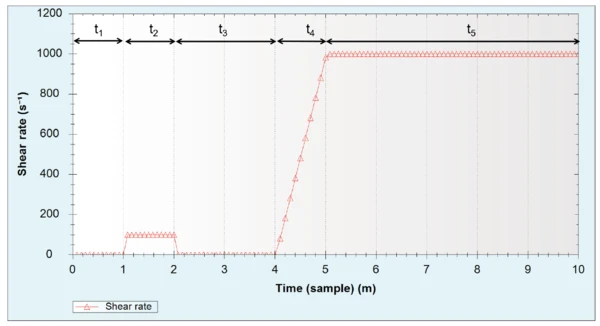 Conclusion
A lubricating grease was measured under the conditions described in DIN 51810-1. Evaluation was successfully carried out automatically thanks to an analysis that can even be included in the measuring method for easy and fast execution of the measurements with the objective of user-independent determination of the results.