Introduction
Many pharmaceutical solids exhibit PolymorphismPolymorphism is the ability of a solid material to form different crystalline structures (synonyms: forms, modifications).polymorphism, i.e., the ability of a substance to exist in different crystalline forms; therefore, they have different molecular arrangements in the crystal lattice. Due to their structural differences, polymorphs may have different solid properties, such as density, color, Melting Temperatures and EnthalpiesThe enthalpy of fusion of a substance, also known as latent heat, is a measure of the energy input, typically heat, which is necessary to convert a substance from solid to liquid state. The melting point of a substance is the temperature at which it changes state from solid (crystalline) to liquid (isotropic melt).melting point, solubility, mechanical properties, etc. Consequently, the polymorphic form can have significant influence on pharmaceutcial processing and can, for example, affect grinding, granulation and tabletability [1].
Paracetamol, which is used for the treatment of pain and fever, is also a polymorph, i.e., it exists in different crystalline forms. Each of these modifications behaves differently, particularly with regard to thermodynamic stability and compression ability. This last property influences the tabletability of paracetamol, i.e., its capacity to be transformed into a tablet under the effect of pressure. It has been proven that orthorhombic paracetamol (also called form II) can be used for direct compression. Its better tabletability than that of the monoclinic form of paracetamol (form I) is due to the presence of parallel sliding planes in the orthorhombic crystalline structure. [5, 6]
However, the monoclinic form is the most frequently used commercially [4], probably because of its better thermodynamical stability. Since the modification of paracetamol is closely associated with its properties, it is essential to know in which form it is present before processing, particularly for the production of tablets that require compaction. In the following, the modification of paracetamol is determined by means of differential scanning calorimetry.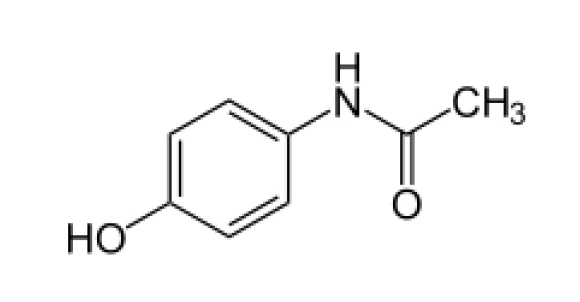 Measurement Conditions
1.69 mg of paracetamol was measured in a sealed aluminum crucible with a pierced lid. This sample was heated twice to 200°C at a heating rate of 10 K/min. Between the two heating runs, it was cooled down at a controlled rate of 10 K/min.