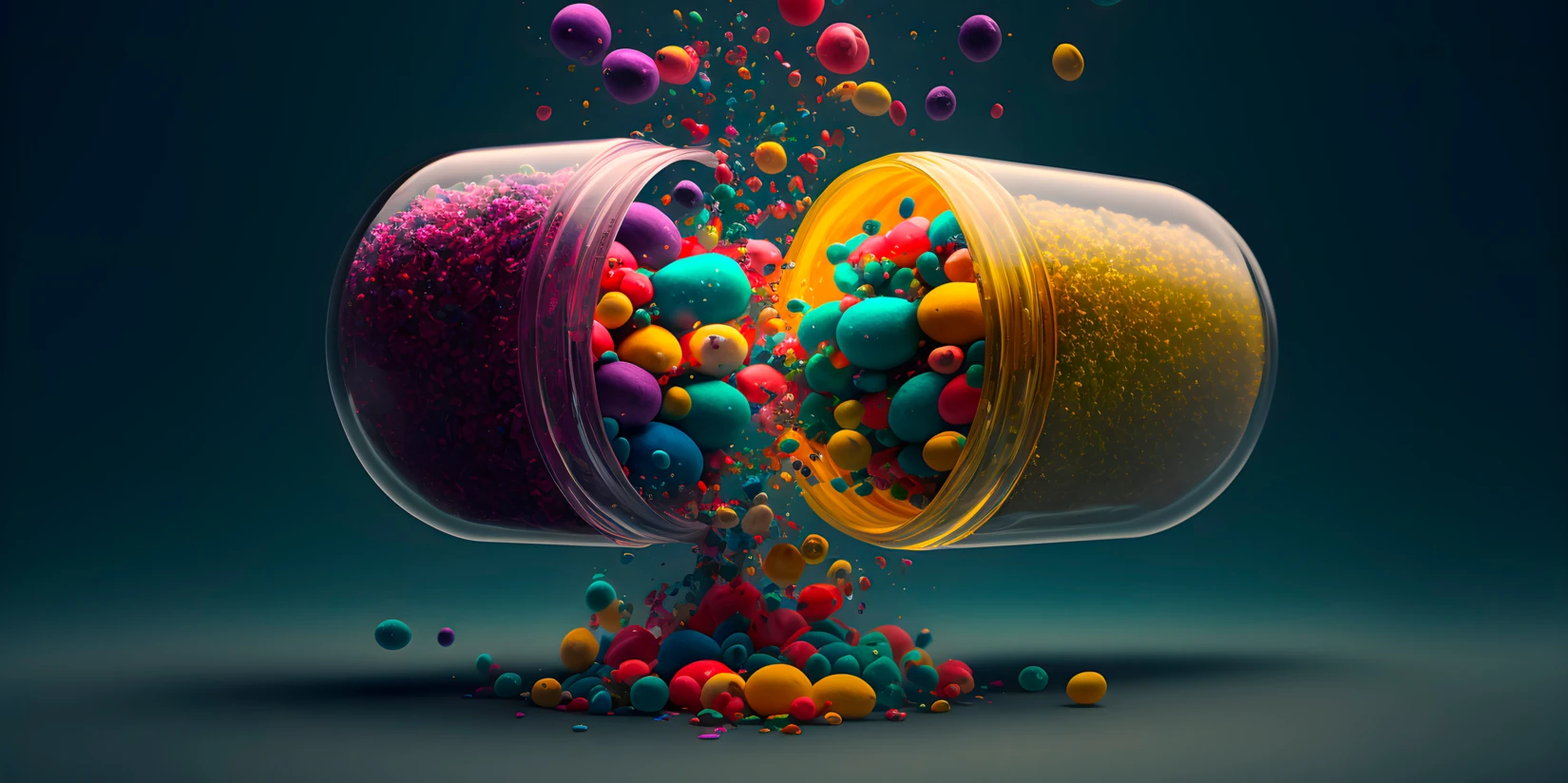 PRODUKTE
Rheometer
Was ist Rheologie?
Rheologie ist die Wissenschaft, die sich mit dem Verformungs- und Fließverhalten von Materialien beschäftigt. Sie stellt ein wichtiges Bindeglied zwischen der Mikrostruktur eines Produkts und dessen Eigenschaftsprofil dar. Ziel der Materialauswahl oder Rezeptierung ist es, ein Produkt mit den gewünschten Eigenschaften durch Steuerung seiner Mikrostruktur und letztlich seiner Rheologie herzustellen.
Die Rheologie ist nicht nur ein wichtiges Analysewerkzeug für Forschung & Entwicklung, sondern auch ein wertvoller Leistungsindikator in der Qualitätskontrolle. Von besonderem Nutzen sind dabei die Anpassung und das Erstellen von maßgeschneiderten Methoden. Je nach Probentyp können die Methoden spezifische Anweisungen, Pass/Fail-Kriterien, automatische Analyse, Speichern, Export und Berichterstellung enthalten ‒ und das alles mit nur einem Klick.
NETZSCH bietet als einziges Unternehmen am Markt sowohl Rotationsrheometer als auch Kapillarrheometer an und eröffnet in Verbindung mit weiteren thermischen Analysegeräten, wie beispielsweise der Dynamischen Differenzkalorimetrie (DSC), weitreichende Analysemöglichkeiten aus einer Hand.
Rheologie – Das Herzstück von Formulierung und Verarbeitung
Man unterscheidet zwischen Rotations- und Hochdruck-Kapillarrheometer, die sich in ihrem Scherratenbereich unterscheiden.
Warum ist es wichtig, unter verschiedenen Scherraten zu messen? Man erhält einen Einblick in das Material, wie die Formulierung die Rheologie beeinflusst und somit wiederum in die Auswirkung auf die Verarbeitung und Leistungsfähigkeit. Das Verhalten im Ruhezustand kann ein völlig anderes sein als das während der Herstellung, des Transports, der Anwendung oder während der Veränderung im Laufe der Zeit.
Die Scherrate, die für rheologische Messungen von großer Bedeutung ist, ist abhängig von der Anwendung. Beispielsweise Sprühen erfordert hohe Scherraten, andere Anwendungen wie die Sedimentation sind mit niedrigen Scherraten verbunden. Während das Kinexus als Rotationsrheometer das Gerät der Wahl für Messungen im niedrigen Scherratenbereich ist, arbeitet man mit dem Rosand Kapillarrheometer, um höhere Scherraten von bis zu 1.000.000 s-1 zu erreichen.
NETZSCH bietet als einziges Unternehmen am Markt beide Rheometer-Arten an und schafft in Verbindung mit weiteren thermischen Analysegeräten weitreichende Analysemöglichkeiten aus einer Hand.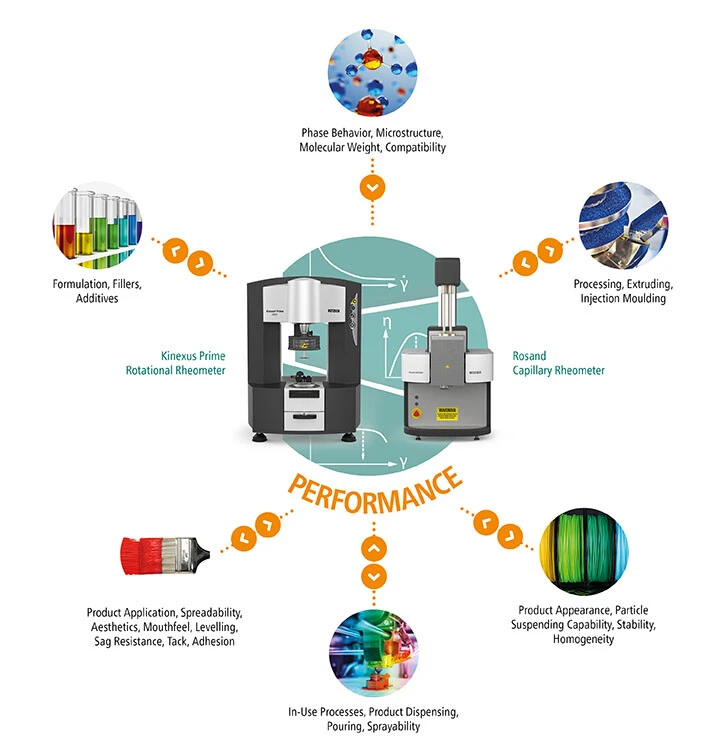 Perfektionieren Sie Ihre Prozesse: Welches Gerät passt zu Ihren Anforderungen?
Unabhängig davon, ob Sie die Struktur eines Materials verstehen wollen oder die Leistungsfähigkeit beim Pumpen bestimmen müssen ‒ mit über 14 Dekaden Scherraten bieten wir Rheometer, die Ihnen bei allen Fragen hilfreich zur Seite stehen.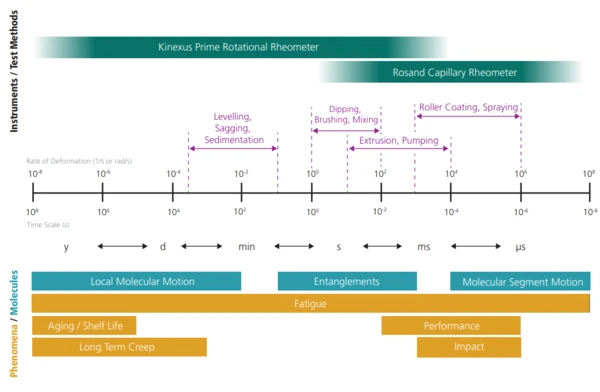 Wie kann die Rheologie hilfreich für Sie sein?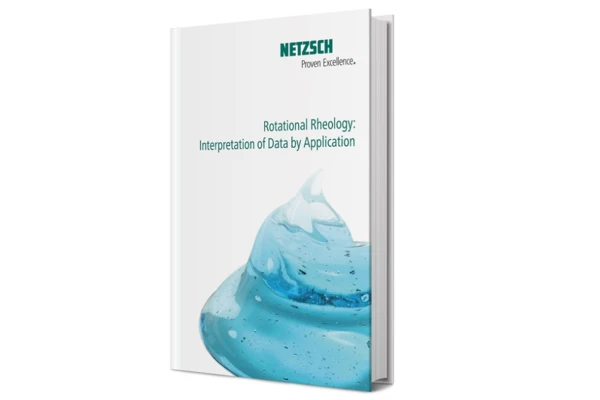 Anwendungsbuch: Rotational Rheology: Interpretation of Data by Application
Auf mehr als 100 Seiten zeigt es viele beispielhafte Messungen aus den Bereichen:
Farben, Lacke & Druckfarben
Polymere
Lebensmittel
Pharmazeutika & Kosmetik
Bitumen, Petrochemie und Sonstiges.
In einer Einführung werden die grundlegenden Konzepte der Rheologie erläutert, was dieses Buch zu einem kleinen Standardwerk macht, insbesondere für Anfänger, aber auch für fortgeschrittene Anwender.
Anwendungsbuch: Capillary Rheology: Interpretation of Data by Application
Diese neue Buch bietet eine Einführung in die Technologie und das Themengebiet, erörtert Anwendungsbeispiele, zeigt, wie grundlegende Materialeigenschaften charakterisiert werden können, und bietet Messungen mit fortgeschrittenen Techniken.
Das Buch gibt einen Einblick, wie Scher- und Dehnungseigenschaften das Verhalten in der Anwendung beeinflussen können, während sie gleichzeitig die Untersuchung von Verarbeitungsproblemen und die Fortsetzung der Produktion in der Fabrik ermöglicht. Dies unterstreicht die Bedeutung und den Nutzen für den Materialhersteller, den Verarbeiter und die Forschung.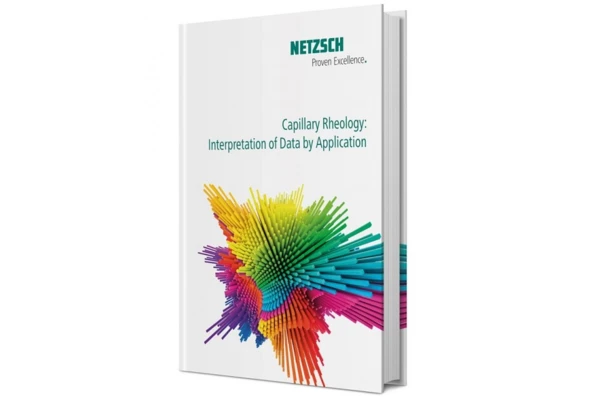 KEY NOTE: New Kinexus Prime Series
KEY NOTE: New Rosand
Series